More style and space, less wasted energy
Highlights
Harmonious Design
Enhance your home with an elegant and modern design that will blend harmoniously with any kitchen interior.
Spacious Inside
Store more food and organize it neatly with a very wide and spacious interior.
Harmoniously elegant and premium design
Harmonious Design
Enhance your home with an elegant and modern design that will blend harmoniously with any kitchen interior. It has a stylish vertical recessed handle, ice blue LED display and a choice of premium colors. So it will subtly complement existing furniture and fittings.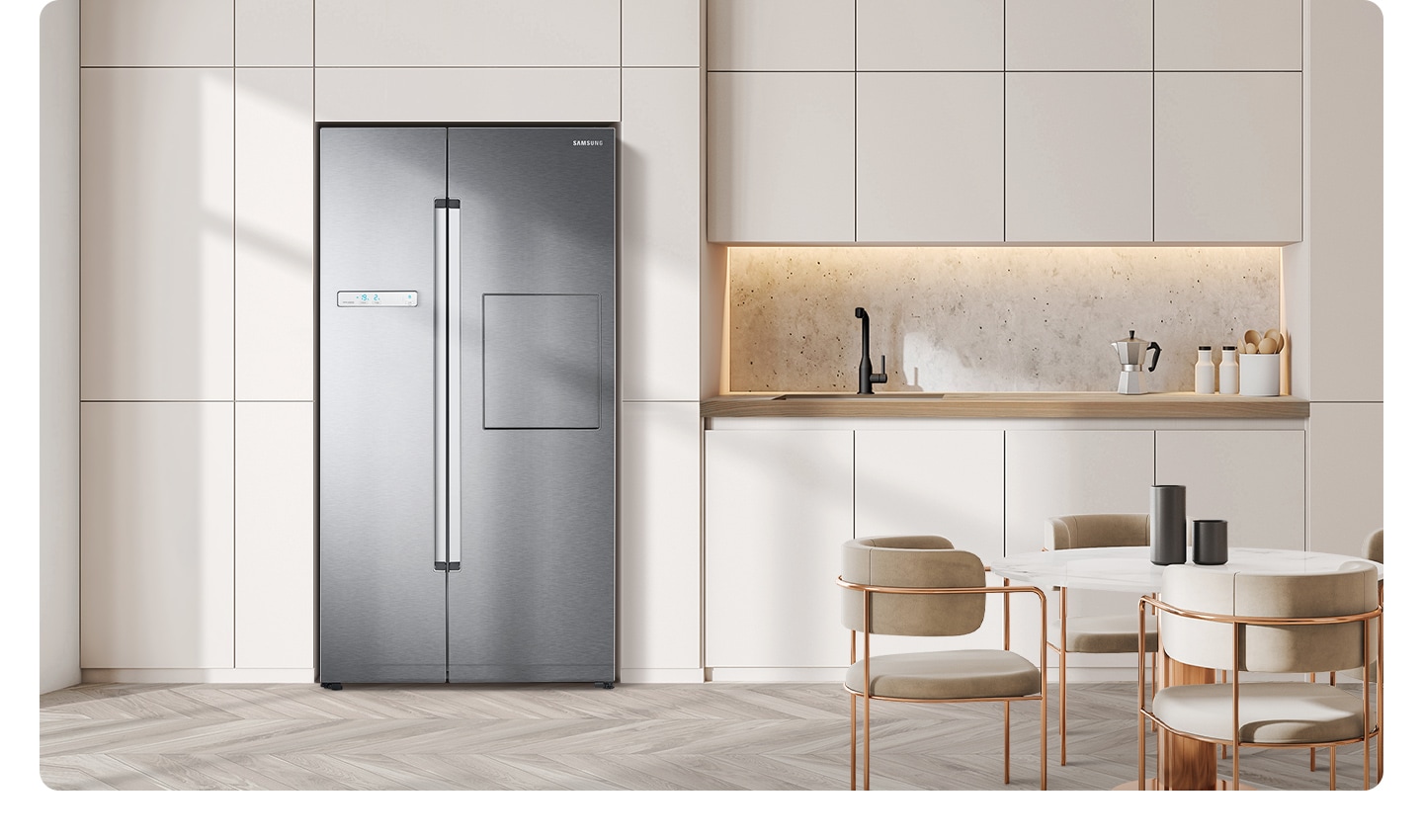 Neatly store and easily find more food
Spacious Inside
Store more food more neatly. It has the largest capacity compared to conventional Side by Side models. So there's plenty of room to keep everything tidy and efficiently organized. And it's much easier to put in, find and take out items, especially with the Big Guard and Beverage Station.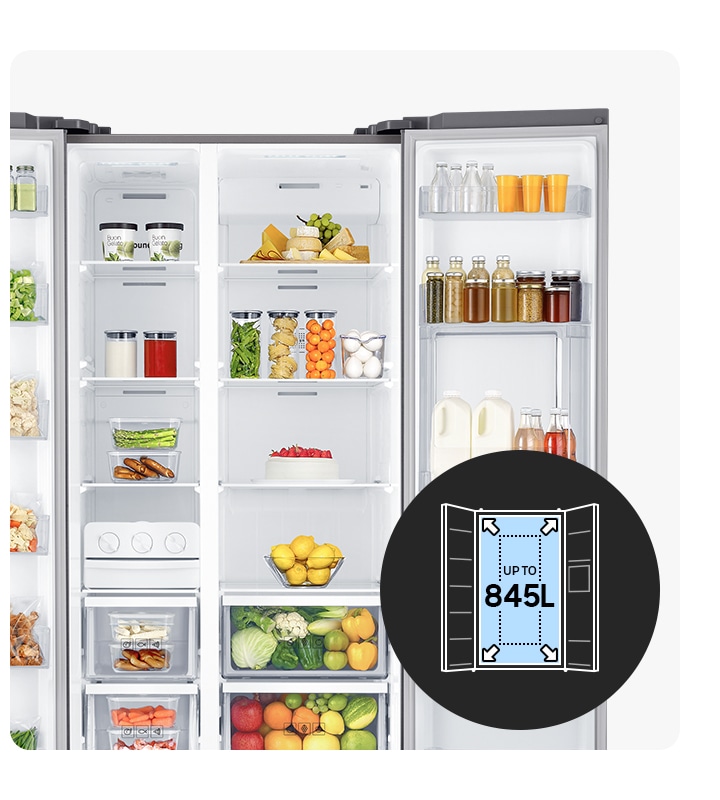 Smart control for optimal performance
7 Smart Sensors
Enjoy a continually optimized cooling performance. 7 Smart Sensors help to maintain the optimal temperature and humidity using a minimal amount of energy. They monitor the doors, humidity, temperature and evaporator, so the refrigerator's performance can be adjusted automatically.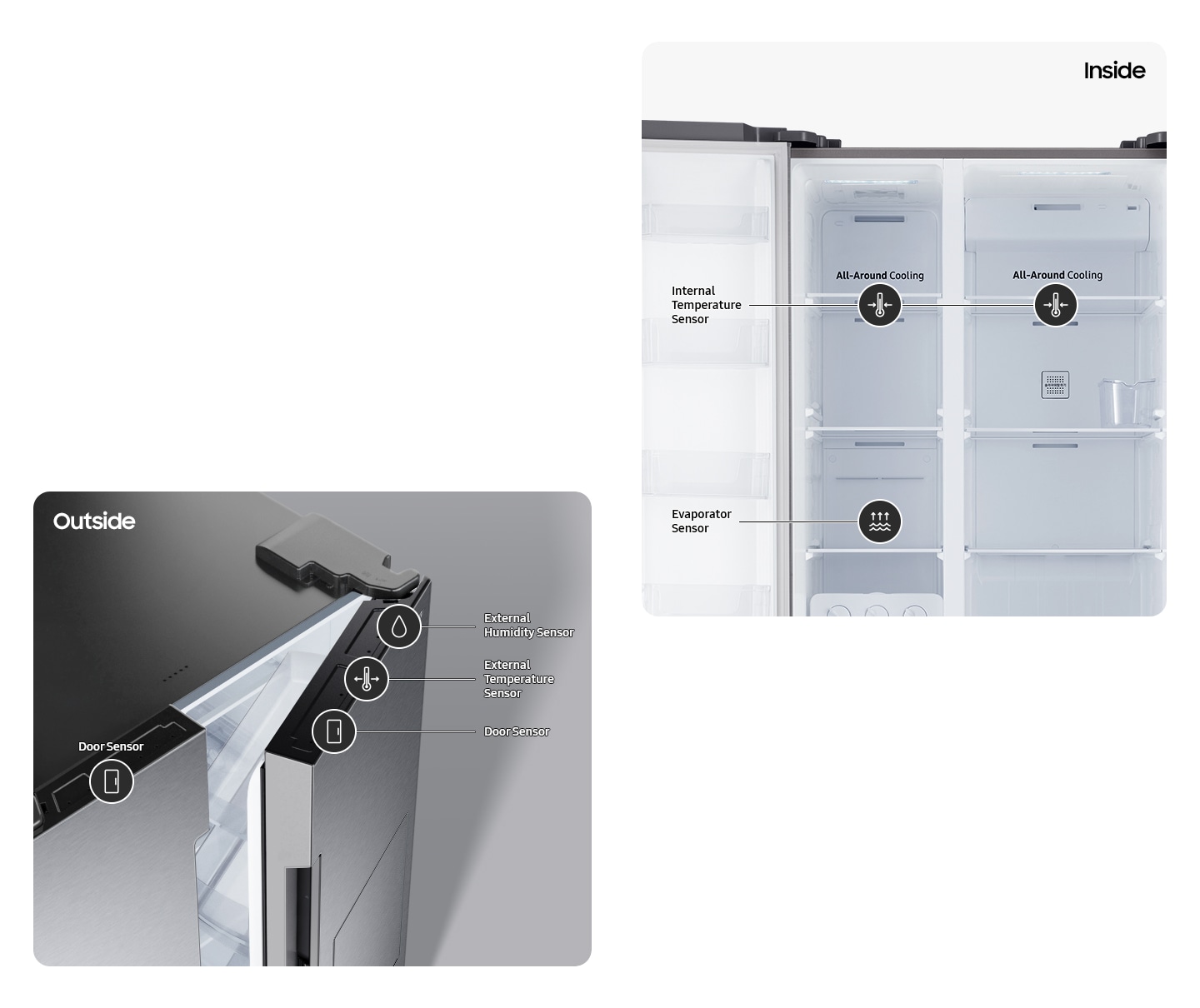 Preserves food freshness for longer
All-Around Cooling
Make sure that all of your food is properly cooled. All-Around Cooling cools each compartment evenly from corner to corner. It continually checks the temperature and circulates cool air through strategically placed vents. So food is kept at the optimum temperature and stays fresher for longer.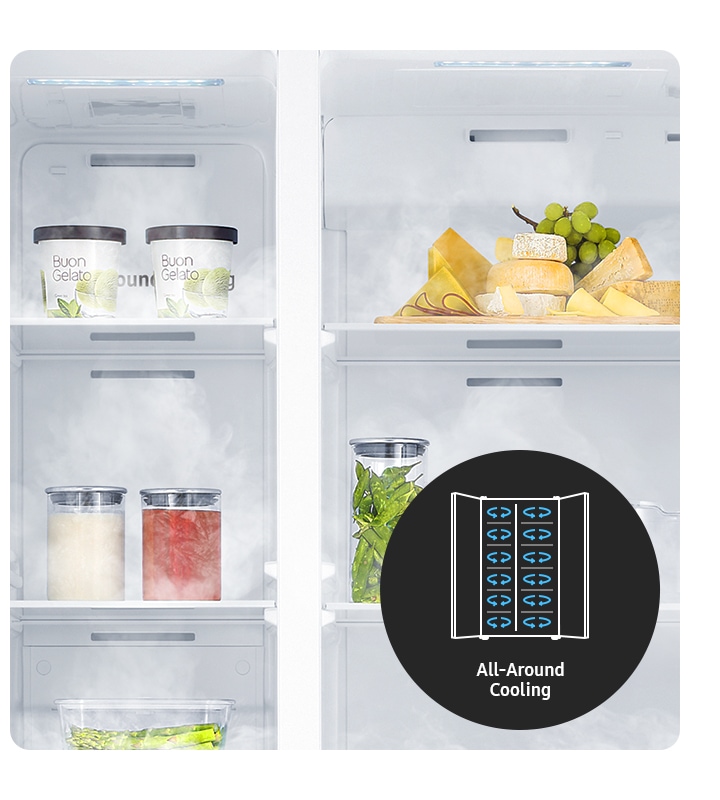 Optimal humidity for lasting freshness
MoistFresh Zone
Preserve the freshness and flavor of fruit and vegetables for longer. The MoistFresh Zone is a smart drawer that creates the optimal environment for storing perishable food. A tight seal prevents moisture from escaping if the humidity is low, while a vent releases moisture if it is too high.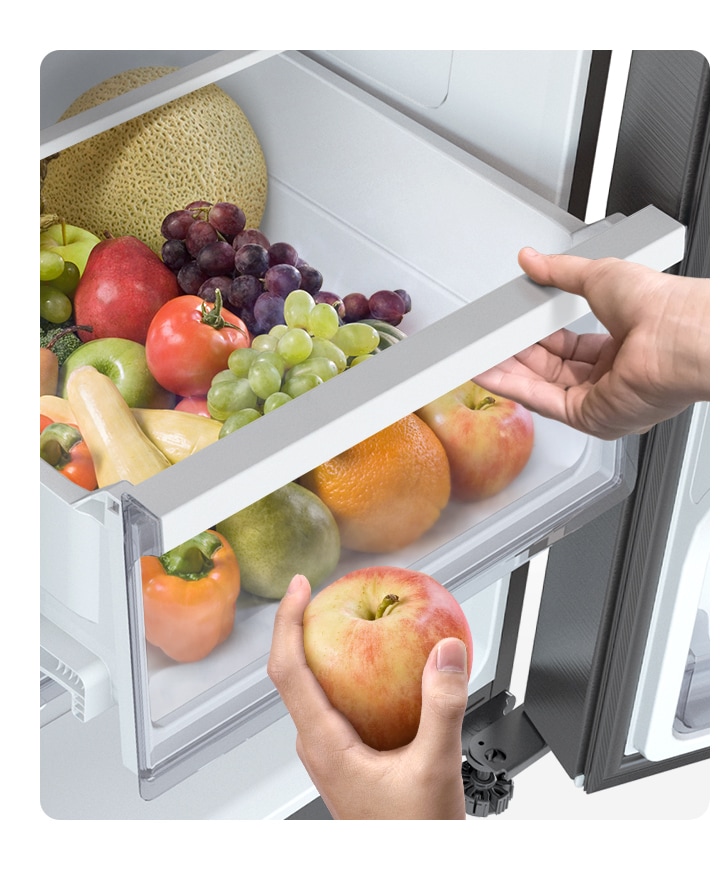 Drinks bar for all your favorites
Find and enjoy your favorite chilled drinks and snacks much more easily. The Beverage Station that lets you store more items and organize the inside more efficiently. A big drinks bar also opens softly with a simple touch and prevents cooling loss to reduce energy consumption.
Making ice cubes made much simpler
Get ice more easily and use the freezer space more efficiently with a Movable Twist Ice Maker. One twist is all it takes to dispense a large quantity of ice cubes, and the storage bin can be taken out to serve ice anywhere. And if you need more freezer space you can simply remove the Ice Maker.
See in every corner with brighter light
LED Lighting
Find ingredients more easily, and save space and money with LED lighting. It's slimmer, brighter and more energy-efficient than conventional lighting. It brilliantly illuminates every corner with a softer, more comfortable light, while creating more storage space and reducing electricity bills.